Vodafone Office Spaces devices and stickers are equipped with an NFC tag that you can scan to immediately select the device / sticker in your Office Spaces app.
Note: Having a weak internet connection can cause errors due to connection dropout while scanning. Make sure your phone is connected to the fastest network available at your location.
Scanning an Office Dot / sticker
In order to successfully scan an office dot or a sticker, make sure you have the following in mind:
Enabled NFC scanning (if you're using Android)
Know where your NFC reader is located
Remove any phone accessories that might interfere with the scan. Anything containing metal is particularly disruptive
Hold your NFC reader to the office dot / sticker for at least 1 second
NFC scanning on iPhone
Supported iPhones:All iPhones from the iPhone X back to the iPhone 7 support NFC using the designated in-app NFC button. See images below: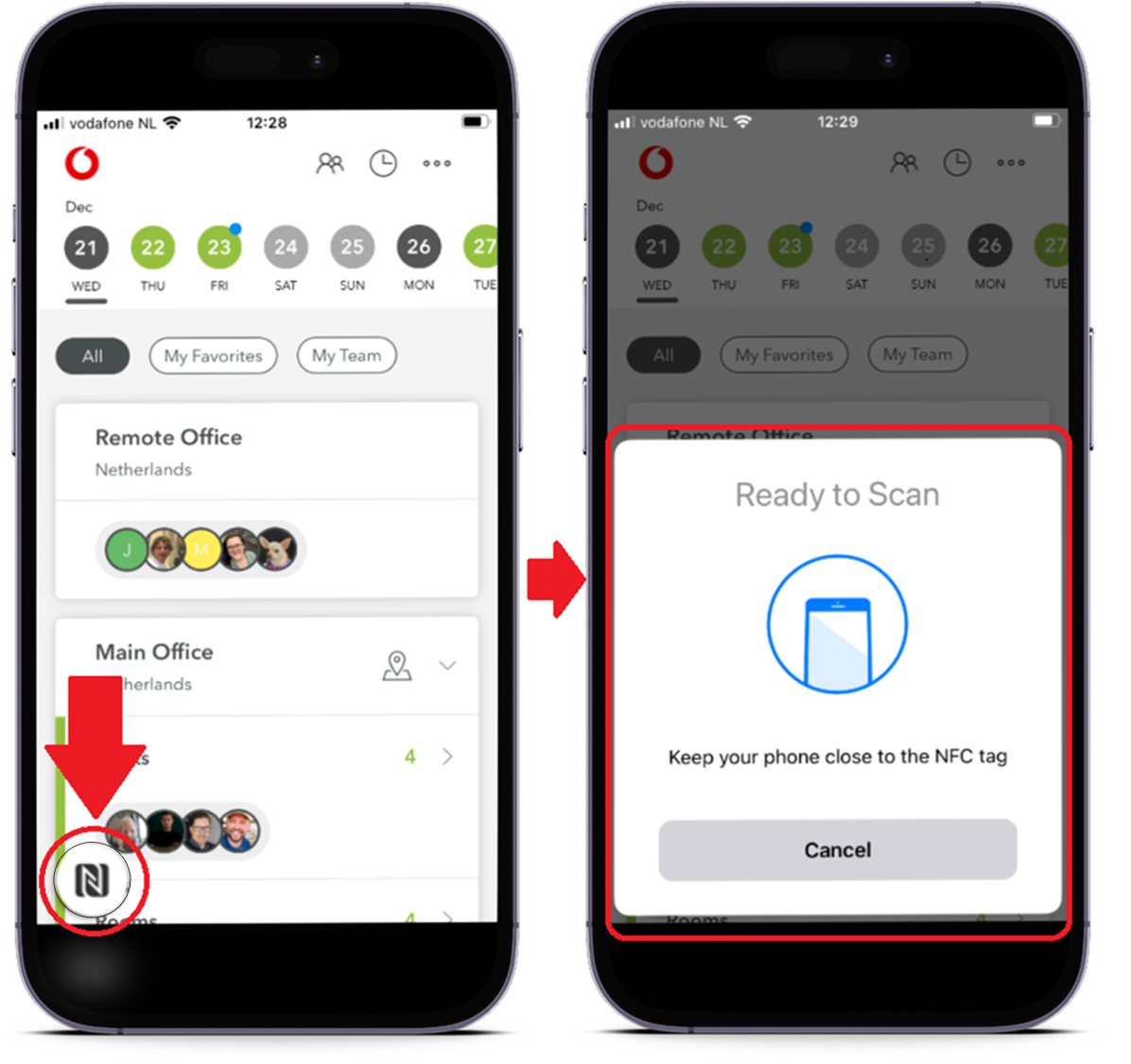 iPhone XS, XR, 11, 11 Pro and up all support dedicated NFC. They do not need the button (or the office spaces app open) to scan a office dot.
Note: The position of the NFC reader is located in the top part of the iPhone.
See the following video for a visual example:
NFC scanning on Android
On android, NFC needs to be enabled in order for the phone to use it. As there are a lot of different Android phones that do or do not have NFC, the best way to find out if your phone has NFC available and enabling it using these steps:
On your Android device, tap on "Settings"
Select "Connected devices" / "Connections" to access Connection Preferences
You should see "NFC" and, in some cases, "Android Beam" options
Turn on "NFC" and, if present, "Android Beam"
If your device supports NFC and you enabled it by following these steps, you can scan a office dot similar to the following video.
Note: The location of the NFC reader differs a lot on different android devices. To figure out where NFC It is located on your device, you can hold the NFC icon to access NFC settings. The location of your NFC reader will be shown on the screen.
Read further