This section includes the following information:
The technical specifications,
The intended use,
The warranty.
The People Count Sensor is a dedicated sensor for counting people within its view in combination with the Office Spaces gateway. Devices are equipped with an optical sensor and embedded intelligence, allowing accurate and precise data collection, whilst having the smallest and most discreet design. Image processing takes place inside each sensor in real time and only the footfall count is transmitted via Bluetooth to the assigned gateway device.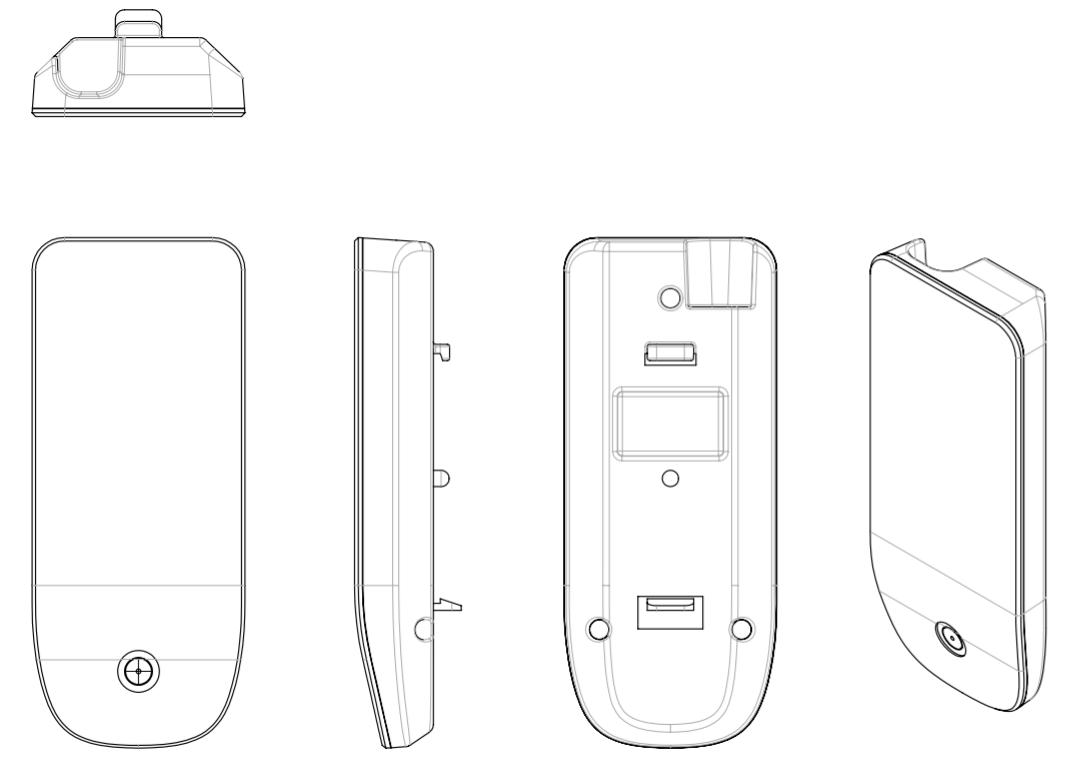 Technical specifications
Mechanics & Design

Housing material: Plastic

Color: White

IP rating: IP20 (The People Sensor is designed for indoor use only).

Operating temperature range: 0°C to 40°C

Size & Weight
Sensor: 110 × 46 × 12 mm
Mount: 65 × 21 × 12 mm
Ceiling/wall combi bracket: 76 x 43 x 21 mm.
L-Shape mounting bracket (L-shape): 60 x 36 x 28mm.
Sensor weight: 69 g
Mount weight: 13 g
Footfall range: 3m
Dead-zone (@2.7m mounting): 0.5m Light value: 20-10000 lux
Band and mode / Output power
Bluetooth 2.4 GHz: -4 dBM
NFC 13.56 MHz: passive
Power
Power input: 5V/2A
Power consumption: 2W(peak)
Power adapter(main supply): AC 100-240V, EU plug
Scalability
1 sensor : 1 Office Dot
Package content

1 device
1 Wall mount
2 4mm x 30mm screws
2 4mm wall plugs
1 USB type A to Micro USB cable (3m)
1 USB power adapter

Certification
Type approved: CE
WPC no: ATSZAWW191206003
IC: 25743-PICA156
Installation
1. Preparation
Before using the People Sensor, read the safety, installation and operation instructions to ensure proper use.
2. Intended use
This is a combination of an intelligent sensor device, gateway and data analytics tools. At the heart of solution is the device, with connectivity to build automation and access the sensing data through cloud services is enabled by the gateway.
The device observes and extract information about people and objects seen by the device. All devices are equipped with intelligent motion sensing and remote configuration capabilities. By means of a visual sensor and artificial intelligence, captured images are processed by the embedded computer vision algorithm and only meta-data is transmitted from the device. Images are never stored or transmitted by any sensor.
3. Mounting and commissioning
The sensor should be installed on vertical walls at a height of at least 2m, depending on room size. Select an appropriate mounting location, giving consideration to sensor field-of-view and mounting height. Make sure the sensor has adequate visual range to cover the desired area and to have an available power supply within 3m of the mounting location for each sensor. The sensors field-of-view is 60° horizontally and 35° vertically. In order to achieve the desired viewing angle, the wall mount, that has a 30° angle, can be mounted to the wall in both verse: either with the "hinge" in the right side or on the left side. This way the sensor can be mounted to every angles. It will be attached in such a way that it perfectly aligns to a wall and will left a 30° angle on the one. Make sure the wall mount
is attached in the right way, and that sensor is aimed correctly. The can either be pointing room inwards using the wall bracket, or towards the footfall using the L-Shape bracket.
This device has been assessed in accordance with EN 62311:2008 to be safe for general use at a distance of 20cm. Installation of the device must be carried out in such a way that under normal conditions this distance is maintained, with appropriate signage if required.

Please note: Sensor performance may be limited by poor lighting conditions
4. Maintenance & Care
The device housing can be wiped for dust or cleaned with a damp cloth if needed. Do not use cleaning agents.
5. Disposal
Electrical and electronic equipment, accessories and packaging must be recycled in an environmentally compatible manner. Do not dispose of electrical and electronic equipment as domestic waste.
The hardware has been designed with an eye to recyclability to support with sustainability. Feel free to contact Vodafone Business in support in disposing of hardware.
EU countries only: under the current European Directive on Waste Electrical and Electronic Equipment and its implementation in national law, electrical and electronic equipment no longer suitable for use must be collected separately and recycled in an environmentally compatible manner.